Staff Profile
Jennifer Holton, MD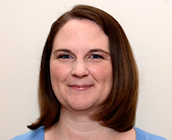 Dr Holton is an Assistant Professor at Emory University School of Medicine and is the Program Director for Emory's Child and Adolescent Psychiatry Fellowship Program. She is board certified in Psychiatry and in Child and Adolescent Psychiatry.
A native of Georgia, Dr Holton received her B.S. in Anthropology and Human Biology from Emory University. She completed medical school at the University of Pennsylvania School of Medicine and completed her general psychiatry residency and child and adolescent psychiatry fellowship at Duke University School of Medicine. She worked as an attending physician at Duke before returning to Emory.
Dr Holton's clinical work primarily focuses on the treatment of ADHD, anxiety, and mood disorders in children, adolescents, and young adults. She enjoys working with individuals and their families to understand their goals and to work collaboratively to develop comprehensive, evidence-based, holistic treatment plans to meet those goals. Dr Holton also enjoys teaching and supervising medical students, psychiatry residents, and child and adolescent psychiatry fellows.